Pacifico Impex has been pioneer in manufacturing and sourcing Scaffolds, formwork and shoring system from India as well as China. We are equipped with latest production technology, highly experienced staff, advanced design and development software and strong quality control department, which make us specialized in customization of products and export of a diverse range of products and services worldwide.
We are an ISO 9001:2015 certified professional manufacturer & exporter of Scaffolding, Shoring and Formwork system. All of our products are manufactured with compliance of International standard as EN 74, EN 12811, ANSI, DIN & BS1139. Our products have been exported to more than 40 countries and regions in Europe, United States of America, Central America and South American Countries. 
Our industrial scaffolding products are engineered for safety, strength and flexibility to meet international standards within this industrial scaffolding industry, which are important for structural engineers, scaffolding factories and formwork specialists. In terms of working processes, we have expertise in iron casting, steel forging pressing and fabrication.
The prime mover for Pacifico Impex has been continuous engineering innovations with our expertise in Design & development department and its professional work culture.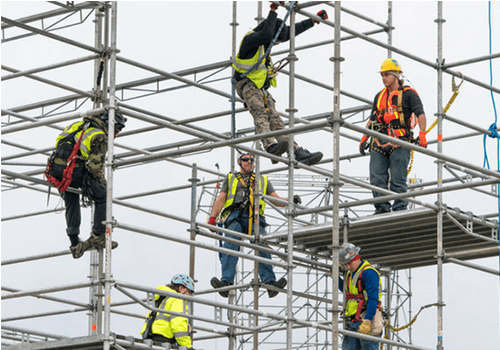 We are committed to provide quality products at competitive prices through our continual innovation under Design & Development. We strictly follow ISO standard to maintain the quality of the products. We are having office in China in order to ensure the quality of product which exactly matches to our customers' requirements.
We are committed to serve customer with excellent service in our industry through our highly skilled, experienced and creative professionals.
Our vision is to continuous efforts to reach at every corner of the world with quality products. We are always ready for customized development, Investment on cutting edge technologies to provide best services to our esteemed customers.
Pacifico Impex is a value driven organization in its entire business operations. The business attributes that leads the organization strongly in global markets are:
Customized Product Supply
Our 10 years of experience has sharpen our skills to provide unmatched product supply as per our esteemed customer's requirement. Our world class infrastructure and technical competence accelerate us our speed to develop products on time.
We maintain our product quality as per International standards, which are quite reflected from our patronage. We ensure self respect, integrity of our employees & create ample opportunities for them to show their talent & skills.
By utilizing the latest manufacturing techniques as well as information technology, we successfully cut down the production cost of entire product range, without affecting quality parameters. We believe in continuous development, we are committed for optimum utilization of resources.
Confirmed and Authentic offers
We issue to our clients a Performa invoice with detailed technical specification of products, quantities, shipping dates, shipping terms and payment terms to avoid any discrepancy.